Welcome to Best Host Inn Buena Park
Best Host Inn Buena Park Anaheim is located at the S. E. gate of the famous Knotts Berry Farm, less than 10 minutes from Disneyland Resort.

Our property offers rooms that are both comfortable and modest in price. Here you will find beautiful surroundings and comfortable accommodations with newly remodeled guest rooms as well as deluxe rooms with in room jacuzzi and upgraded furniture.

You might choose to relax around our newly renovated year round HEATED outdoor swimming pool or visit one of the most popular theme park just a few steps across the street.

While in the area you can enjoy beautiful Southern California beaches, visit top rated shopping malls, dine in world-class restaurants and have fun at the closeby popular Buena Park Downtown: The Perfect Blend of Life and Style .

Come experience our fine facilities and friendly service. Our dedicated motel staff look forward to serving you.

Compare us to the Rest Best Value in Buena Park

For a limited time we are giving away welcome baskets that include a bottle of Wine.

Complimentary Shuttle to Disneyland and Knotts Berry Farm 9 am to 10 30pm

Purchase your tickets from Best Host Inn. - Knotts Berry Farm 1 Day - Disney Land 1 Day 1 Park - Disney Land 1 Day Hopper - Disney Land 2 Day Hopper - And MORE
Call us now to inquire on different pricing and special offers.

Meeting Room

2 meeting Rooms available with light setup and catering. 15 people in 1 room and 10 people in 2nd room.
Events in Buena Park
Newport Beach Beerfest 2018
by Rock Star Beer Festivals
Sat, May 26, 2018
6 PM – 10 PM
Newport Dunes Waterfront Resort
1131 Back Bay Drive
Newport Beach, CA 92660
The Newport Beach Beerfest is an all inclusive event bringing guests to the sandy beaches of the Newport Dunes. While there, guests can try unlimited samples of over 150 craft beers, wines, and spirits. Enjoy the beautiful sunset as this event starts during the light and ends in the dark. Live bands, headlined by Atlas Genius, and DJs set the stage and get the crowd on their feet. The event will feature a food truckefest as well. We support and raise funds for charity. More info at www.newportbeachbeerfest.com

Chuckwagon BBQ Cook Off
by Los Angeles City Barbecue Society
Fri, May 25, 2018
1030 AM – 6PM
Pearls BBQ LA LOT
2143 Violet Street
Los Angeles, CA 90021
The Contest
The Los Angeles City Barbecue Society CHUCKWAGON BBQ Cook-off is sanctioned by the Kansas City Barbeque Society KCBS. KCBS representatives will be onsite. Competition Judging starts at noon on Sunday, May 27, 2018 using the blind judging system. The contest consists of four categories chicken, pork ribs, pork, and beef brisket. All four categories are required for Grand Champion.
The First Annual Chuckwagon BBQ Cook Off will be in the ARTS DISTRICT downtown area of Los Angeles, CA www.lacbbqs.com. The Arts District is known for its long history in the Produce World then an artist residence community. Now the home of CHUCKWAGON BBQ COOK OFF will be held every year on Labor Day. The BBQ Cook-off will be held at Pearls BBQ parking lot centered in the Arts District downtown Los Angeles DOC, near 7th Street and Santa Fe Ave. The festival will include the Contestants smoking cooking foods for sale to the Public and live music on Saturday, Sunday and Monday until 10pm. Visit our website for updates on the events for the Competition Cook Off. www.lacbbqs.org
Competition for the Masters Series, BACKYARD BBQ, Peoples Choice Awards, etc.

Memorial Day Mini Festival
Mon, May 28, 2018
10 AM – 3 PM
Bill Barber Marine Corps Memorial Park
4 Civic Center Plaza
Irvine, CA 92606
Come out to honor those who lost their lives for us and celebrate those that are veterans today still with us. Proceeds received in excess of cost of event will be donated to a Veteran Resource Organization in Orange County.
Memorial Day mini-festival for Verterans ONLY and their families.
When Monday, May 28, 2018
Time 10 AM to 3 PM
Where Bill Barber Memorial Park
4 Civic Center Plaza, Irvine, CA 92606
Entrance fee
Veterans with ID and eventbrite ticket FREE
Immediate family of Veteran FREE
Everyone else 10 at the door
First 50 Veterans and their families eat lunch FREE!
We will have a kids jumper, desserts, live band, raffle and more.
---
Hotel Features
Free WiFi and Free Parking
Free Full Hot Breakfast with Eggs and Meats
Free Shuttle to Park 8am till 10pm
Heated year round Pool
Meeting Room up to 15 people
Guest Laundry
Newly Remodeled Rooms
Flat Screen TV 40 Inch and Cable with HBO
Fridge and Dryer some rooms with wetbar
Hair Dryer Coffee Maker, Safe no charge
Family Suites and Romantic Spa Suites
NO Pets Allowed except ADA service animals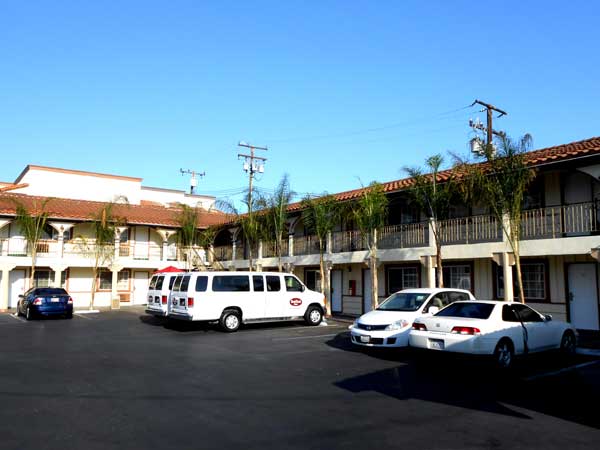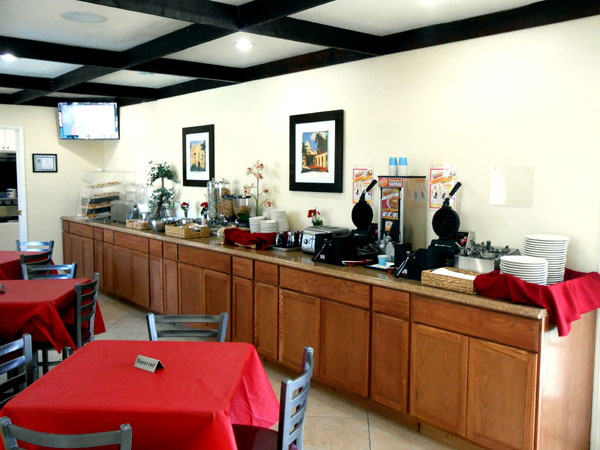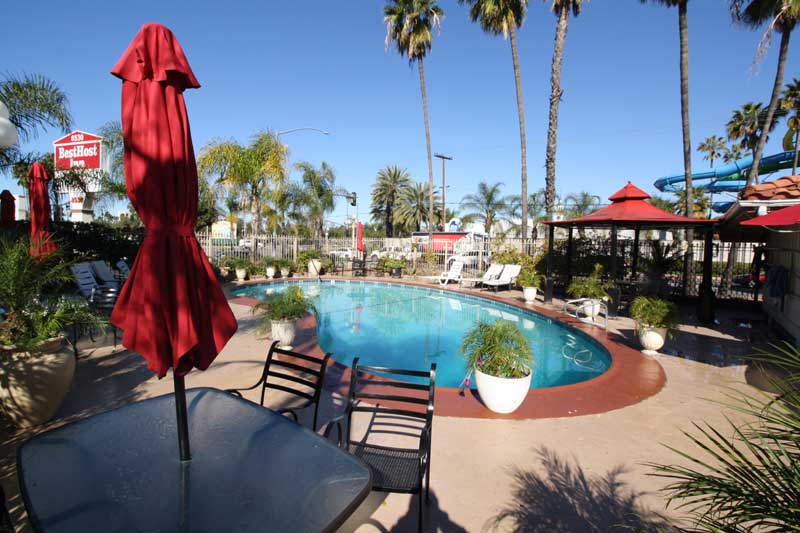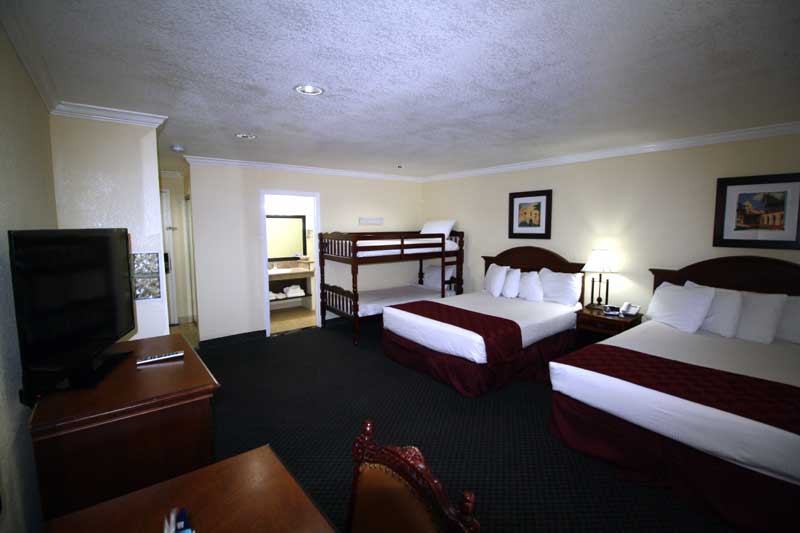 Activities : You may be surprised to learn that Buena Park is not only home to attractions for thrill seekers but it's also a great destination for those on a budget and families traveling with grandparents. Aside from Knott's Berry Farm theme park, Soak City Waterpark, Pirate's Dinner Adventure and Medieval Times Dinner & Tournament, the lively city of Buena Park offers several FREE unique activities that can be enjoyed by all generations.
Airport : The Long Beach Airport Terminal (1941) is a masterpiece of the early modern style, bridging the transition from the modernistic Streamline Moderne style of the 'thirties to the geometric abstraction of the post-war International Style. It was an avant-garde work of architecture for its time, and is a unique building in the City of Long Beach. The architects, W. Horace Austin and Kennth Wing, Sr., were important Long Beach architects, each with a significant body of work in the City and the region
Attractions : Immerse yourself in the ultimate Southern California vacation by exploring things to do in Buena Park, Orange County and nearby Los Angeles. Visitors can enjoy world-class rides at Knott's Berry Farm, drop into dozens of slides at Knott's Soak City water park, join the swashbuckling crew at Pirate's Dinner Adventure or cheer on jousting knights at Medieval Times Dinner & Tournament. Just a short drive away is South Coast Plaza's premier shopping, Newport Whale's awe-inspiring cruises and the sandy shores of Huntington Beach.
Attractions : Knott's Berry Farm is a world-renowned theme park built from the humblest of beginnings. What started as a small berry farm soon began to grow into a family theme park destination thanks to famous fried chicken dinners, boysenberries and an Old West Ghost Town. Knott's Berry Farm now bursts with attractions and entertainment for all ages, including first-class roller coasters, stage shows, interactive experiences, delicious food creations and family-friendly fun featuring Snoopy and the Peanuts Gang. The once small family farm has grown into today's family fun destination; home to the Knott's Berry Farm theme park, Knott's Soak City Waterpark and Knott's Berry Farm Hotel.
Casinos : 24 hours a day, 7 days a week - Escape to The Gardens to Get Your Game On! Grab a cocktail, a snack, or a delicious meal from our international menu - without ever leaving your table! Play your favorite games, and enjoy the company of the friendliest players around.
Dining : John's Incredible Pizza Company blends the universal appeal of all-you-can-eat buffets, amusement rides, and video and ticket-dispensing games into an incredible experience for the young and the young at heart. In a 50,000 square foot menagerie of sensory entertainment, guests will find buffet-style food prepared fresh daily.
Downtown : Buena Park Mall, an enclosed mall anchored by Big Air Trampoline, Wal-Mart, T.J. Maxx, 24 Hour Fitness and Sport, Bed Bath & Beyond, Ross Dress for Less, DSW Shoe Warehouse, and Sears. Krikorian Courtyard, an open-air entertainment center anchored by 18-screen Krikorian Metroplex Theatres, Howie's Game Shack, Dickey's Barbeque Pit, Kickin' Crab and Asia Buffet and featuring a variety of restaurants and inline retail shops.
Golf : Below is our comprehensive list of golf courses in the Buena Park, California area. We list them by proximity to Buena Park, including courses in neighboring cities. Award-winning golf courses are noted. Click on the course name to view more information on the course, including reviews and tournaments.
Government : A building permit is a license that grants legal permission to construct or alter a structure. It is, then, a license to build. In general, a permit is required for all activities that are regulated by the City Building Code or its referenced codes. The permit causes the work to be reviewed, approved and inspected to confirm compliance with the Code.
Hospitals : West Anaheim Medical Center is a 219-bed acute-care and general medical/surgical hospital with a complete range of services. Located on the corner of Orange Avenue at Beach Boulevard, the hospital is conveniently located just one mile south of Knott's Berry Farm.
Shopping : South Coast Plaza, a renowned international destination for shopping and dining, celebrates 50 years of quality. Today, it is home to more than 250 prominent boutiques, critically acclaimed restaurants and the celebrated Segerstrom Center for the Arts. Its unparalleled collection of diverse retailers, from Bottega Veneta, Cartier and Van Cleef & Arpels to Hermès, Gucci, Roger Vivier, COACH, UNIQLO and more, along with its customized concierge services, makes it California's premier shopping experience. South Coast Plaza will mark its 50th Anniversary throughout 2017 with exclusive collaborations with global luxury brands, arts partnerships, special events, exhibitions, fashion shows, and more.
Sports On October 2, 1992, Walt Disney Pictures released the hit movie "The Mighty Ducks" and created a new wave of excitement among the nation's youth and ice hockey. Starring Emilio Estevez and a band of kids who learn to play and win as a team, "The Mighty Ducks" grossed $51 million at the box office and served as the inspiration for the name of the Walt Disney Company's NHL club
University : Nobel University was founded in the summer of 2000 in Los Angeles, California. Committed to producing quality practitioners of Oriental Medicine, the University began by offering the Master of Science in Oriental Medicine program (MSOM).
Welcome to our great hotel in Buena Park California with affordable rates and cheap budget discount lodging. Best Host Inn Buena Park welcomes you to our budget hotel in Buena Park California. Best Host Inn Buena Park will provide you excellent customer service with great amenities in comparison to all Hotels and Motels in Buena Park California. Please visit us on your next stay in Buena Park California and let us provide you with 4 star hispoitality for 2 to 3 star budget rates. Best Host Inn Buena Park has been providing lodging and accommodations in Buena Park California for sevral years and looks forward to providing our valued customer and business traveler with the best service in Buena Park California for Hotelsand Motels in our local area.
Best Host Inn Buena Park Buena Park California CA Hotels Lodging Accommodations Budget Affordable Motels Cheap Vacation Packages Specials Pet Friendly Weddings Business Travelers Business Meetings Extended Stay. Best Host Inn Buena Park is one of the finest Hotels and Motels in Buena Park California